/
Hand Tools for craft and hobby
/
Tools for Clay and Mold making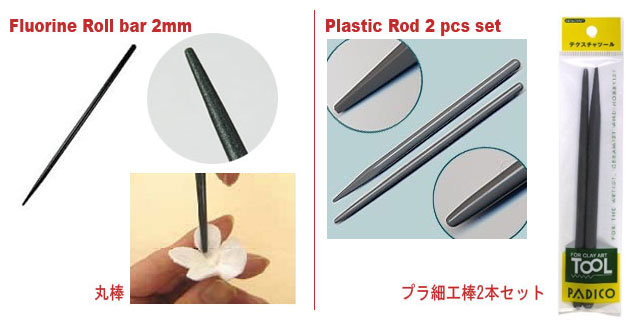 Clay tools : Rod for Clay ( Padico ) / 1pc
Fluorine Roll Bar 2mm Fluorine Roll Bar has a 2mm blunt point end for small scale sculpting, punching holes, shaping, refining and smoothing clay.
It is a useful for making frilled flower petals.
The fluorine clay tool is easy to keep clean.
Plastic Rod 2pieces set Plastic craft rod is a set of 2 clay tools with a round tip and a pentagon one.
The light and durable tools are useful for making small and thin parts like frilled flower petals, leaves, and fake sweets.
Length: 17cm
Merk / Produsen: Padico
*
Produk ini bisa "Back Order", artinya anda bisa order melebihi stok yang ada.(atau biarpun stok kosong, anda dapat order). Kekurangan stok nya, akan kami orderkan dari pabrik.
Tanya produk ini
Catat di MyList
Booking
Kalau anda ingin diberitahu lewat email
apabila produk sudah ada stoknya
silahkan klik tombol ini